Metaverse platform Metaverse2 becomes the official production support for the original entertainment show "Store in Village".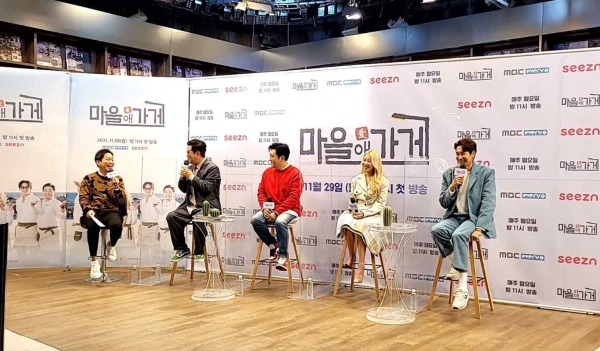 The Future Company's surreal metaverse platform "Metaverse2" created a big topic by joining hands with the season's original entertainment show "Store in Village" as an official production support.
The Go to Village, which will premiere on the 29th, held a production presentation on the 25th and talked about the production reviews and programs. Comedian Ji Sang-ryul, actor Lee Joon-hyuk, friendly, and MOMOLAND Joo-i attended the production presentation.
The 'Store in Village' is an entertainment program aimed at healing and emotion through the beautiful scenery of Gapado Island in Jeju and the pleasant village space regeneration process of the cast, and several actors appear to transform it into a restaurant with haenyeo(Female diver).
Metaverse2 said, "We decided to support the production of 'Store in Village' in order to contribute to innovative transformation by combining the use of abandoned spaces in line with the metaverse era."
According to "Metaverse2," the company supports the production of "Store in Village" and plans to continue a virtuous cycle of not only creating more innovative spaces by closely combining the spaces behind "Store in Village" with Metaverse but also revitalizing the entire village.
Through cooperation with Metaverse2, 'Store in Village' is also expected to be reborn as a unique program that shows both the freshness of transforming abandoned spaces into innovation spaces tailored to the Metaverse era and the comfort of enjoying the natural scenery of the filming site.
Regarding the production cooperation with Metaverse2, CP Roh Seung-ho said at the production presentation of "Store in Village" "We did not fully combine Metabus this time, but we also shared ideas with Metabus 2 from the beginning of the program to keep up with the trend of the times."
He then said, "Our program will gradually integrate with Metabus because the planning intention was to save the region and save the commercial district for residents, and now it is an era where we can implement our real lives such as politics, culture, economy, and volunteer activities as metaverse."
Meanwhile, Metaverse2 is a surreal metaverse platform produced by The Future Company and aims to create a virtual innovation space without a limitation of place and time by breaking down the boundaries between reality and virtual space beyond the limits of physical space. It has recently attracted great attention with the influx of many users.
[WikiLeaks Korea = Reporter Choi]